Taaffeite Just For Fun x Tyinpi To The Moon and Back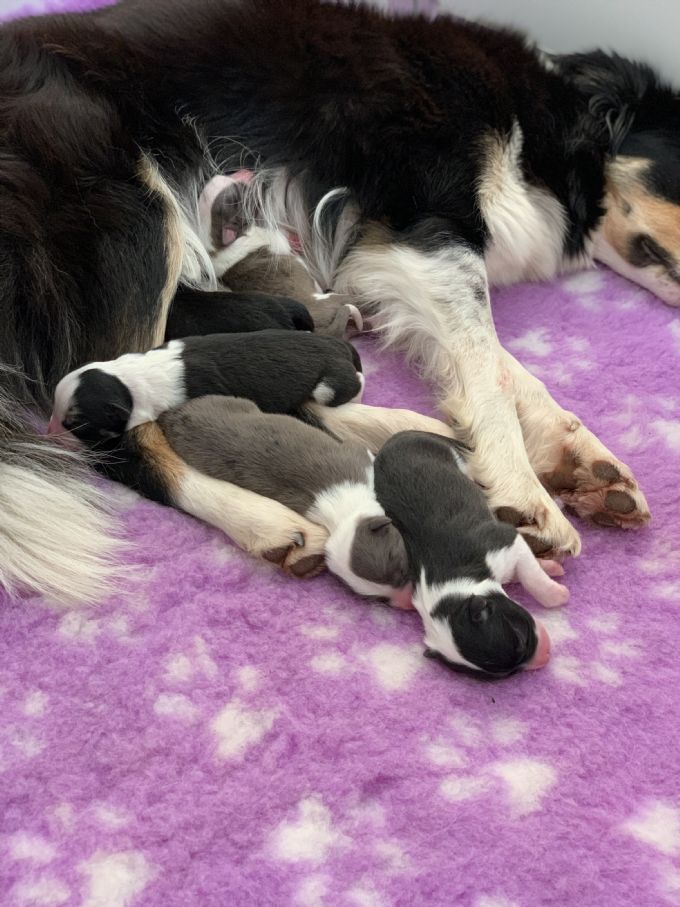 Planned for Late June 2022, puppies are $4000 and include the following:
* Discounted price for Taaffeite Friends/Fam
THEY'RE HERE - PHOTOS ON OUR FACEBOOK PAGE
Merle Girl (Rubik)
Merle Faced Boy (Enigma)
Merle Bodied Boy (Einstein)
Black and White dark faced girl (Cypher)
Black and white girl (Maze)

- Intestinal worming 2, 4 , 6 , 8 and 10 weeks
- Flea and tick prevention (up to 12 weeks)
- First vaccination
- Microchip
- Raised in our home by an experinced dog trainer using the latest science based, fear free methods.
- Collar, Lead, Bandana
- Toys
- Hero Disc Frisbee
- 6 weeks free pet insurance
- WAG treats
- Royal Canin Medium Puppy Food
- Shampoo and conditioner
- Blanket with their mums scent to ease transition into their new home
- Adaptil pheromone collar
- Copies of parents Clear compulsory DNA testing as well as Glaucoma, SN, Raines, and PennHip testing
- Pedigree Registered papers with DogsQLD (ANKC)
- Individual DNA test on that
pup (proof of parentage)
- Basic crate and toilet training
- Extensive socialisation and desensitisation
- Puppy training and raising information pack
- Lifetime support and guidance if required
Blue Merle, Black & White and Tri puppies expected.
Main registered puppies are discussed on a case by case basis, please e-mail me with what you're looking for and your goals as a registered ANKC breeder.